First Full Day in Los Angeles - 9/15/2021
Shawn and I began our first full day in Los Angeles with an expensive breakfast at our hotel. Then we headed out to explore Hollywood.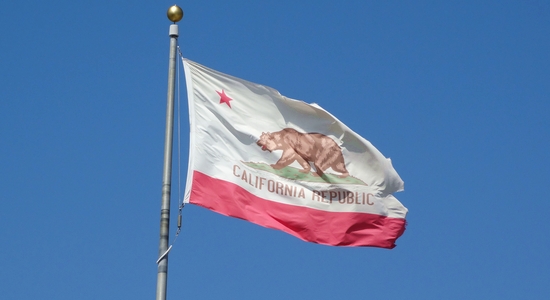 Our hotel was located on Highland Avenue, and when we first booked our reservations, I thought it was conveniently close, yet just out of the way of the middle of Hollywood. As we left the hotel we found a plaza to the side that led directly to Hollywood Boulevard. I suddenly realized that we were actually in the heart of Hollywood.
It was our plan today to ride a tour bus around the Hollywood area to get a variety of highlights. We had a little bit of time to kill before the tour bus began its route, so to get our bearings, we took a short walk along Hollywood Boulevard. We walked past the Dolby Theatre, some restaurants and shops and to the Chinese Theatre.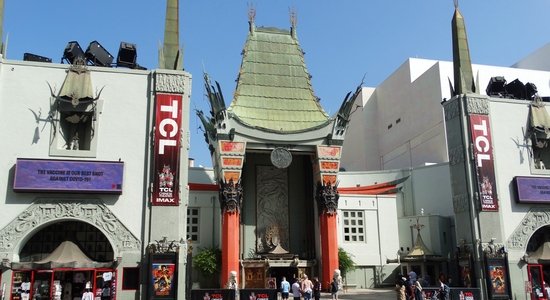 We did one of those hop-on-hop-off bus tours. The circular bus route traveled counterclockwise through several neighborhoods of Los Angeles including West Hollywood, Beverly Hills, La Brea, Melrose and Hollywood. We would travel along famous streets such as Sunset Boulevard, Santa Monica Boulevard, Beverly Boulevard, Wilshire Boulevard, Fairfax Avenue and Vine Street. We got our two-day tickets and grabbed seats on the open-air upper level.
The bus started at 10:00am and headed west through Hollywood. The audio commentary provided details of the sites as we passed by. I can't begin to mention all of the sights we viewed along the way. We saw the "Rock Walk" at Guitar Center and as we passed the comedy clubs, there were tributes to Norm McDonald.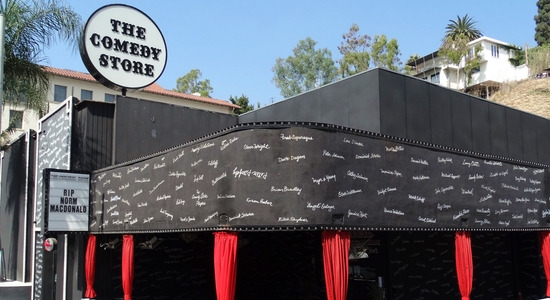 There were some good (and bad) stories about the nightclubs, including the Viper Room and Whiskey a Go Go.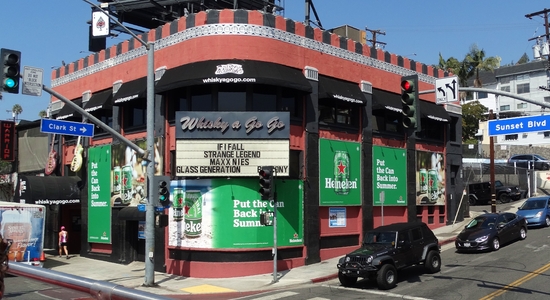 As we traveled Santa Monica Boulevard in Beverly Hills, we were told that each of the side streets here are lined with different kinds of trees.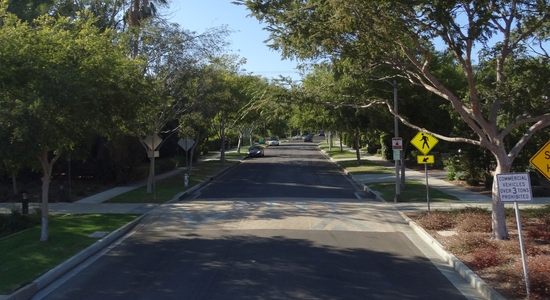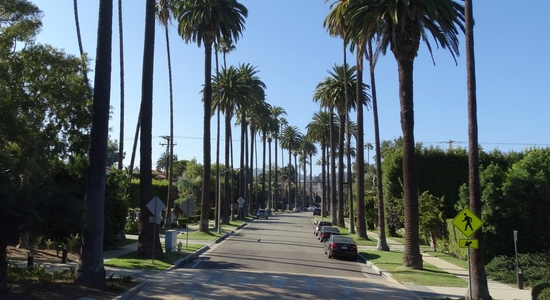 Also in Beverly Hills all of the fire hydrants are painted silver, so we can tell when you are in the good neighborhoods.
In Beverly Hills we hopped off the bus and walked to the famous Rodeo Drive.
We walked the beautiful street lined with palm trees reading the names of the high-end luxury stores.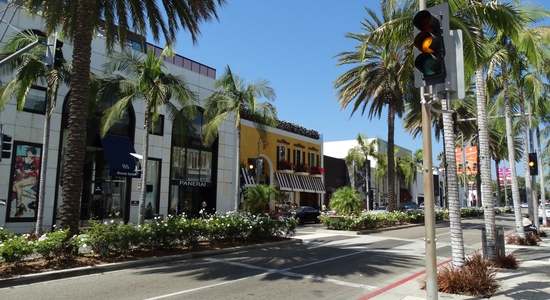 There were rare and exotic brands like Alexander McQueen, Cartier, Rolex, Loro Piana, Tiffany, Saint Laurent and Vacheron Constantin. There were others more common names such as Ralph Lauren, Guess, Dior, Dolce & Gabbana and Burberry. Overall, I wasn't blown away with the exclusivity of the shops and didn't feel the need to go inside any of the stores to browse. This place is beautiful, but there's nothing here that I can't buy back home in Ohio or online.
We walked back to the designated spot for the tour bus and continued the loop, this time headed east and then north.
The tour made its way past the Four Seasons Hotel and after a few more turns over a couple of miles and we found ourselves on Wilshire Boulevard. This stretch of the boulevard between Fairfax and Highland Avenues is known as the Miracle Mile. Wilshire Boulevard is densely developed throughout most of its distance.
We were impressed with the architecture of the Peterson Automotive Museum at the corner of Wilshire Boulevard and Fairfax Avenue.
We hopped off the bus on Fairfax Avenue and walked up Sixth Street to the La Brea Tar Pits.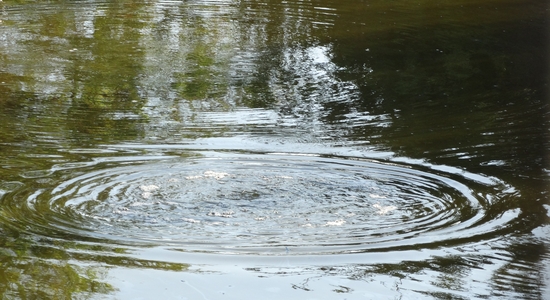 The pits of tar were all created by human excavations. We visited many of the exhibits and pools of asphalt and tar with Methane gas escaping, causing bubbles.
We got back on the tour bus on Fairfax and soon we saw CBS Television City at the corner of Fairfax Avenue and Beverly Boulevard. It's hard to imagine all of the game shows, talk shows and sit-coms were taped here. There were even some scenes from movies filmed here.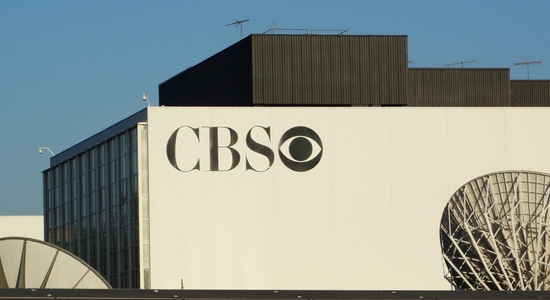 Along Melrose Avenue we saw many quirky and eclectic shops.
Eventually the tour rejoined Hollywood Boulevard and here we hopped off for the final time today. We just happened to have stepped off right in front of the Pantages Theatre where Hamilton was playing.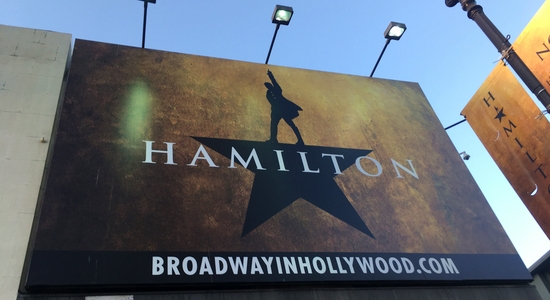 From here it was about ten blocks along Hollywood Boulevard back to our hotel and along the way was part of the Hollywood Walk of Fame. In the early planning stages for this vacation, I had done an internet search to find the address of the star honoring actor, James Whitmore. It was on this stretch of the Walk of Fame that I did in fact locate "my" star.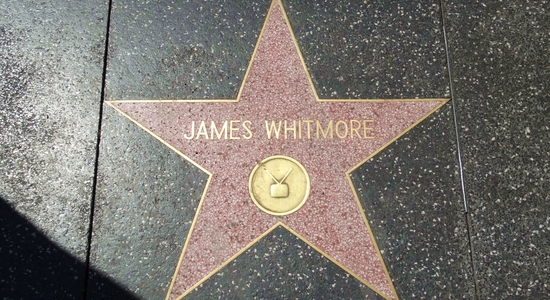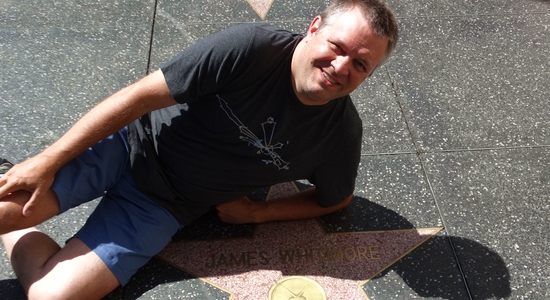 Throughout the bus tour today we tried to get a good picture of the Hollywood sign. Either there were trees, power lines and streetlights ruining the shot or the bus just bouncing around preventing us from getting the shot we wanted. It wasn't until we were standing right in front of our hotel that we captured our first decent picture of the Hollywood sign.
During the evening while we were relaxing in our hotel room, I jokingly suggested to Shawn that we go see Hamilton. He wasn't necessarily against the idea. So I began searching for tickets online. Prices for tomorrow night's performance started out at $49. I asked Shawn how stupid did we want to get when purchaseing these tickets. Just out of curiosity, I searched for the best seats possible and the price was $145 per seat. We decided to just go for it and splurge.
So, tomorrow we will finish off our day with the performance of Hamilton at the Pantages Theatre. But first, we will take the hop-on-hop-off bus to take us out to the Venice Beach and Santa Monica Pier.