Michigan's Adventure - 6/9/2008
Sarah and I headed out early this morning on a six-and-half hour drive to Michigan's Adventure amusement park in Muskegon, Michigan. This small park located near Lake Michigan has a nice collection of rides and coasters with a nice Swan Lake in the middle of the park.
For the most part, we started with the small coasters and worked our way up. Thunderhawk was closed for the day so Shivering Timbers was the last coaster we tried. Shivering Timber is the best wooden coaster I have even been on. It has lots of airtime hills, a great out-and-back design and ends with a good high-speed helix.
We had mostly cloudy skies, cool temperatures and light winds and the crowds were small. Almost all of the rides were walk-on and often didn't run a full-load. Michigan's Adventure is definitely an amusement park and not a theme park. The park is clean, well designed and has a lot of potential for the future.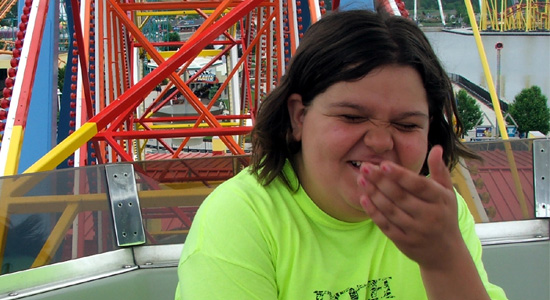 Sarah on Giant Gondola Wheel
After a great day of riding we stayed at the Holiday Inn in downtown Muskegon.
Check out all my pictures from Michigan's Adventure.
Tomorrow... more rides and the water park.